Bulk Carrot Powder Wholesale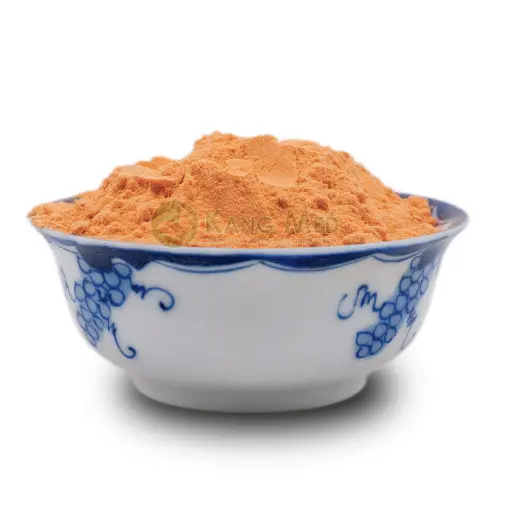 Request Sample
KangMed's carrot powder is processed using advanced technology, and the raw materials are 100% natural, without chemical flavors, pigments and other additives. KangMed's facility is certified organic, kosher and halal. Free samples are available, factory prices are wholesale. We can customize carrot powder packaging and fruit and vegetable powder mixing service according to customer requirements.
Ingredient: carrot
Available In:Bulk
Package Type: 25.00Kg
MOQ: 50.00Kg
Product Type: Raw Material/Extract
Product Specification:crush, flake, powder
Product Category: vegetable powders
Processing Method: Dried/Dehydrated
Country of Origin:China
End Use:Food Ingredients
Ships To:Worldwide
Looking For: Distributor
Product Inventory: InStock
Shelf Life:3 years
Storage:Store in dry place
Customization:OEM/ODM
Transport Package:PE Bags and Outside Carton
Sample Price:0 USD (Free Sample 50g)
Review Count: 2743
Aggregate Rating: 4.7
The carrot (Daucus carota subsp. sativus) is a root vegetable, usually orange in colour, though purple, black, red, white, and yellow cultivars exist. Carrots are a domesticated form of the wild carrot, Daucus carota, native to Europe and southwestern Asia. The plant probably originated in Persia and was originally cultivated for its leaves and seeds. The most commonly eaten part of the plant is the taproot, although the stems and leaves are eaten as well. The domestic carrot has been selectively bred for its greatly enlarged, more palatable, less woody-textured taproot. The carrot is a biennial plant in the umbellifer family Apiaceae. At first, it grows a rosette of leaves while building up the enlarged taproot. Fast-growing cultivars mature within three months (90 days) of sowing the seed, while slower-maturing cultivars need a month longer (120 days). The roots contain high quantities of alpha- and beta-carotene, and are a good source of vitamin K and vitamin B6, but the belief that eating carrots improves night vision is a myth put forward by the British in World War II to mislead the enemy about their military capabilities. The United Nations Food and Agriculture Organization (FAO) reports that world production of carrots and turnips (these plants are combined by the FAO) for the calendar year 2013 was 37.2 million tonnes; almost half (~45%) were grown in China. Carrots are widely used in many cuisines, especially in the preparation of salads, and carrot salads are a tradition in many regional cuisines.
Specification
#
Item
Value
1
Particle Size:
80 mesh
2
Appearance:
fine powder
3
Country of origin:
China
4
Others:
Non-GMO;
Non-Irridiation;
Gluten free;
Heavy metal
| # | Item | Value |
| --- | --- | --- |
| 1 | Total heavy metal: | ≤ 20 ppm |
| 2 | Pb: | ≤ 2.0 ppm |
| 3 | Hg: | ≤ 0.01 ppm |
| 4 | As: | ≤ 1.0 ppm |
| 5 | Cd: | ≤ 0.5 ppm |
Microbiology index
| # | Item | Value |
| --- | --- | --- |
| 1 | Total bacterial: | ≤ 10000 cfu/g |
| 2 | Yeast & Mold: | ≤ 1000 cfu/g |
| 3 | E. Coli: | Negative |
| 4 | Salmonella: | Negative |