Bulk Organic Strawberry Juice Powder Wholesale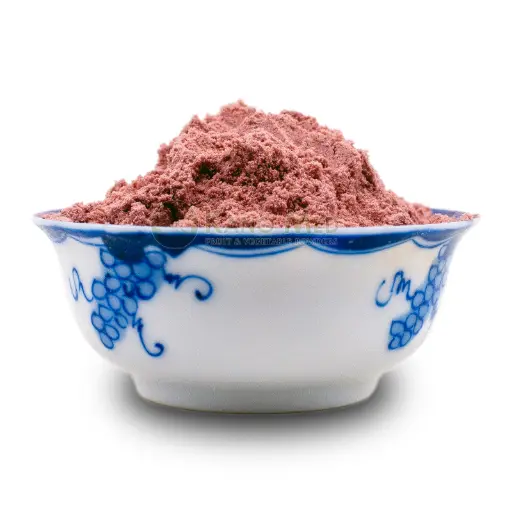 Request Sample
KangMed's organic strawberry juice powder is processed using advanced technology, and the raw materials are 100% natural, without chemical flavors, pigments and other additives. KangMed's facility is certified organic, kosher and halal. Free samples are available, factory prices are wholesale. We can customize organic strawberry juice powder packaging and fruit and vegetable powder mixing service according to customer requirements.
Ingredient: strawberry
Available In:Bulk
Package Type: 25.00Kg
MOQ: 50.00Kg
Product Type: Raw Material/Extract
Product Specification:crush, flake, powder
Product Category: organic powders, fruit powders, juice powders
Processing Method: Dried/Dehydrated
Country of Origin:China
End Use:Food Ingredients
Ships To:Worldwide
Looking For: Distributor
Product Inventory: InStock
Shelf Life:3 years
Storage:Store in dry place
Customization:OEM/ODM
Transport Package:PE Bags and Outside Carton
Sample Price:0 USD (Free Sample 50g)
Review Count: 1242
Aggregate Rating: 4.7
The garden strawberry (or simply strawberry; Fragaria × ananassa) is a widely grown hybrid species of the genus Fragaria, collectively known as the strawberries, which are cultivated worldwide for their fruit. The fruit is widely appreciated for its characteristic aroma, bright red color, juicy texture, and sweetness. It is consumed in large quantities, either fresh or in such prepared foods as preserves, juice, pies, ice creams, milkshakes, and chocolates. Artificial strawberry flavorings and aromas are also widely used in products such as lip gloss, candy, hand sanitizers, perfume, and many others. The garden strawberry was first bred in Brittany, France, in the 1750s via a cross of Fragaria virginiana from eastern North America and Fragaria chiloensis, which was brought from Chile by Amédée-François Frézier in 1714. Cultivars of Fragaria × ananassa have replaced, in commercial production, the woodland strawberry (Fragaria vesca), which was the first strawberry species cultivated in the early 17th century. The strawberry is not, from a botanical point of view, a berry. Technically, it is an aggregate accessory fruit, meaning that the fleshy part is derived not from the plant's ovaries but from the receptacle that holds the ovaries. Each apparent "seed" (achene) on the outside of the fruit is actually one of the ovaries of the flower, with a seed inside it. In 2017, world production of strawberries was 9.2 million tonnes, led by China with 40% of the total.
Specification
#
Item
Value
1
Particle Size:
80 mesh
2
Appearance:
fine powder
3
Country of origin:
China
4
Others:
Non-GMO;
Non-Irridiation;
Gluten free;
Heavy metal
| # | Item | Value |
| --- | --- | --- |
| 1 | Total heavy metal: | ≤ 20 ppm |
| 2 | Pb: | ≤ 2.0 ppm |
| 3 | Hg: | ≤ 0.01 ppm |
| 4 | As: | ≤ 1.0 ppm |
| 5 | Cd: | ≤ 0.5 ppm |
Microbiology index
| # | Item | Value |
| --- | --- | --- |
| 1 | Total bacterial: | ≤ 10000 cfu/g |
| 2 | Yeast & Mold: | ≤ 1000 cfu/g |
| 3 | E. Coli: | Negative |
| 4 | Salmonella: | Negative |