Bulk Pomegranate Powder Wholesale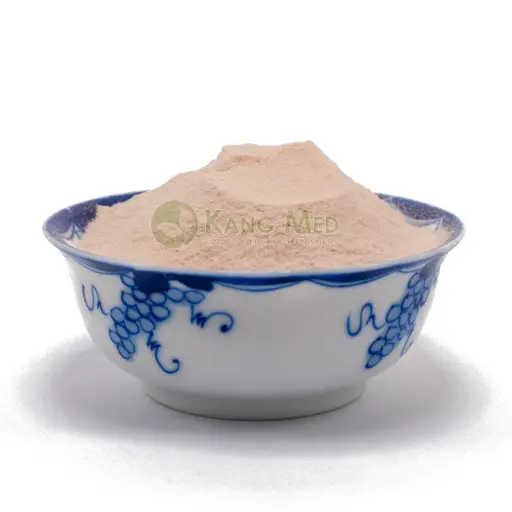 Request Sample
KangMed's pomegranate powder is processed using advanced technology, and the raw materials are 100% natural, without chemical flavors, pigments and other additives. KangMed's facility is certified organic, kosher and halal. Free samples are available, factory prices are wholesale. We can customize pomegranate powder packaging and fruit and vegetable powder mixing service according to customer requirements.
Ingredient: pomegranate
Available In:Bulk
Package Type: 25.00Kg
MOQ: 50.00Kg
Product Type: Raw Material/Extract
Product Specification:crush, flake, powder
Product Category: fruit powders
Processing Method: Dried/Dehydrated
Country of Origin:China
End Use:Food Ingredients
Ships To:Worldwide
Looking For: Distributor
Product Inventory: InStock
Shelf Life:3 years
Storage:Store in dry place
Customization:OEM/ODM
Transport Package:PE Bags and Outside Carton
Sample Price:0 USD (Free Sample 50g)
Review Count: 3071
Aggregate Rating: 4.7
The pomegranate (Punica granatum) is a fruit-bearing deciduous shrub in the family Lythraceae, subfamily Punicoideae, that grows between 5 and 10 m (16 and 33 ft) tall. The fruit is typically in season in the Northern Hemisphere from September to February, and in the Southern Hemisphere from March to May. As intact arils or juice, pomegranates are used in baking, cooking, juice blends, meal garnishes, smoothies, and alcoholic beverages, such as cocktails and wine. The pomegranate originated in the region extending from modern-day Iran to northern India, and has been cultivated since ancient times throughout the Mediterranean region. It was introduced into Spanish America in the late 16th century and into California by Spanish settlers in 1769. Today, it is widely cultivated throughout the Middle East and Caucasus region, north and tropical Africa, South Asia, Central Asia, the drier parts of southeast Asia, and parts of the Mediterranean Basin. It is also cultivated in parts of Arizona and California. In the 20th and 21st centuries, it has become more common in the shops and markets of Europe and the Western Hemisphere.
Specification
#
Item
Value
1
Particle Size:
80 mesh
2
Appearance:
fine powder
3
Country of origin:
China
4
Others:
Non-GMO;
Non-Irridiation;
Gluten free;
Heavy metal
| # | Item | Value |
| --- | --- | --- |
| 1 | Total heavy metal: | ≤ 20 ppm |
| 2 | Pb: | ≤ 2.0 ppm |
| 3 | Hg: | ≤ 0.01 ppm |
| 4 | As: | ≤ 1.0 ppm |
| 5 | Cd: | ≤ 0.5 ppm |
Microbiology index
| # | Item | Value |
| --- | --- | --- |
| 1 | Total bacterial: | ≤ 10000 cfu/g |
| 2 | Yeast & Mold: | ≤ 1000 cfu/g |
| 3 | E. Coli: | Negative |
| 4 | Salmonella: | Negative |